How to register RIFF Box and Update Firmware
Hello dear RIFF Box users !

Here You can read important instructions related to RIFF Update server, RIFF Box registration and troubleshooting.

First few very important warnings:


Make sure that Your HOSTS file is not compromised by 3rd party software. Please visit this page to learn how to fix it:
How can I reset the Hosts file back to the default?    
DO NOT run or download any software which is not from official RIFF JTAG Box page ( www.riffbox.org )
DO NOT post RIFF Box PCB photos, RIFF Box Serial Number or any screenshots on public forums. This is allowed ONLY in Support Tickets section.
If it's possible, always use Windows 7 to update RIFF Box firmware
Some islamic countries (KSA, Bahrain, Kuwait) have limited features on Internet Provider Services.
If You live in such country, You may need to use VPN to access update server properly.
Some small Internet Service Providers oftenly use Web Server on Gateway, and in such case You also may need to use VPN, or change ISP. Lebanon is one of the countries where such problems occur for example. 


Now, please follow below listed instructions to update Your RIFF Box Firmware and download Your license file:

    Download latest RIFF Setup file from here : RIFF Setup , and execute it.
    Start RIFF JTAG Manager and simply follow instructions from software:
    If Your box is not registered, click "Connect Server":
    .



    .
    Enter Your desired login (user name) password and e-mail address. It's best if You have Gmail account !
    .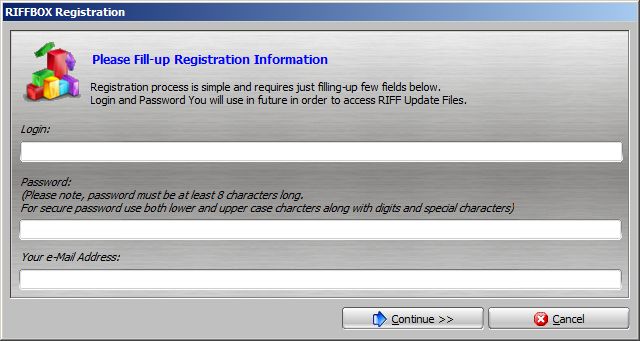 .
    Confirm Your password and e-mail address:
    .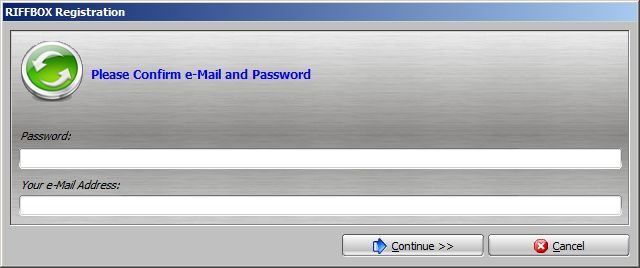 .
    If You have done everything properly, You'll have following screen:
    .




    This means that Your box is registered ok, and license file is downloaded to Your PC. Now You can proceed to update RIFF Box Firmware.
    Click "Firmware Update" and enter login/password:
    .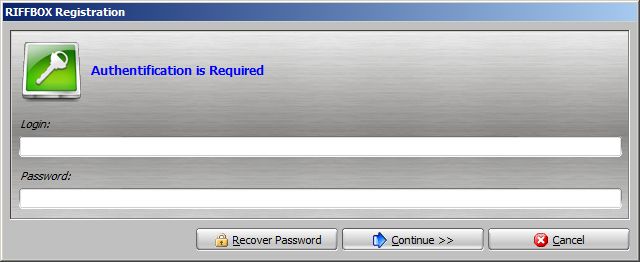 .
    New Firmware will be downloaded and Your RIFF Box will be updated.
    Take note - If You use Windows XP, You may need to re-connect USB Cable on RIFF Box, in order to finish the update properly !

Now Your RIFF Box is registered, and You can continue using it.